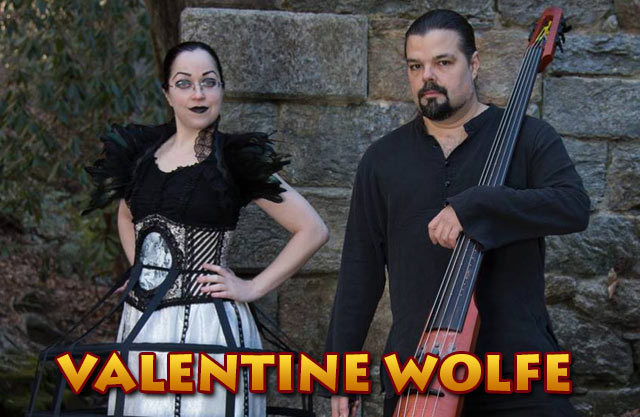 Formed in 2006, Valentine Wolfe is the combined effort of the Lady Sarah Black and Braxton Ballew. Imagine Sarah Brightman being backed by Francois Rabbath blowing through a Marshall stack at midnight. Having dubbed their music "Victorian Chamber metal", the duo have synthesized a love of metal, classical and industrial, infusing them with a Victorian sensibility that evokes the likes of Bram Stoker and Edgar Allan Poe.
The ethereal soprano vocals of Sarah Black–which call to mind not only the aforementioned Brightman, but also Dianne van Giersbergen of Xandria and Tarja Turunen–are buttressed by the thunderous growl of Braxton's electric upright bass, and the two coalesce over pounding rock and electronic grooves punctuated by a maelstrom of synthesizers, keyboards, samples and sound design.
In addition to their gothic metal stylings, their post-graduate backgrounds in music (Sarah has an MM in Composition, and Braxton a DMA in Double Bass) has afforded them multiple opportunities to broaden their musical horizons in recent years, having been contracted to lend their unique sound to theater productions; composing and performing the scores for Shakespeare's The Merchant of Venice, The Tempest (Warehouse Theater), The Winter's Tale (Furman University), and Twelfth Night (The Distracted Globe), the voice of The Angel in the Warehouse Theater's production of Angels in America, silent films and short horror films (most notably, Your Cold Black Heart).
Drawing inspiration from all things Victorian, including literature, poetry, and history, and blending them with their musical proclivities and sensibilities and new media (such as Game of Thrones– which they recorded several songs based on the source material–and Penny Dreadful), their music has found particular favor amongst the Steampunk set.
But in a genre dominated by airships and gearwork, tophats and goggles, they follow the back alleys of streets lit with yellowed gaslamps, casting shadows long against the walls; where Jack the Ripper stalked his victims, where Dracula walked with Mina. Together they've provided the drama and the grandeur of the gothic at conventions all up and down the East Coast; rocking con raves with Industrial metal for a pre-industrial age, where the glowsticks are filled with absinthe.
Their release, The Nightingale: A Gothic Fairytale, is an dramatic adaptation and reinterpretation of both The Emperor and the Nightingale by Hans Christian Andersen and Ode to a Nightingale by John Keats, set in a sinister Poison Garden, based on the Alnwick Botanical Gardens in England, where every single plant can kill.
We're very happy to have Valentine Wolfe back for Monsterama!